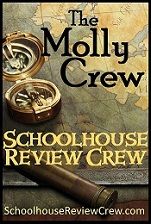 Today I get share with you a different kind of review. The Schoolhouse Review Crew is branching out to include the
Molly Crew
. So not only will I get to continue bringing reviews of great homeschooling curriculum, but I'll also be reviewing great items and gadgets that pertain to other areas of your life.
First up on the Molly Crew, deck...
Everyday Cooking
from Everyday Homemaking.
About Everyday Cooking
A collection of tried-and-true recipes and hints for simple, everyday cooking with an emphasis on whole foods - from a busy homeschooling mother of eight. Includes photos, sample menus, shopping, equipment tips, and more! 100 full-size pages; color cover and color photos.
Our Experience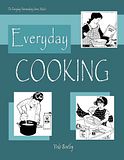 I received the e-book version of this cook book in a PDF format. I was able to quickly and easily load it onto my iPad and get cooking.
The book contains recipes for the following categories:
**Breakfast Ideas
**Appetizers &Dressings
**Breads & Grains
**Main Dishes & Soups & Salads
**Desserts & Snacks
It also includes:
**Basic Measurements and Helps
** Planning & Shopping Hints
**Basic Cooking Skills Checklist
**Sample Menus & Menu Planning Masters
**Basic Kitchen Accessories
**Kitchen Equipment
**and more
Mackenzie and I had a great time trying out recipes in this cookbook. In fact, the recipes were simple enough that Mackenzie was able to make a lot of them on her own. We made taco seasoning mix, Chicken Broccoli Braid, Italian Chicken and Rice, Chicken Taco Rice, Vicki's Italian Chicken and Pasta, Sloppy Joes, Chocolate No-Bakes, Fruit Juice Knox Blox, Helen's Orange Delight, and Becky's Mystery Cake. We enjoyed them all! My husband doesn't usually like Sloppy Joes but he really enjoyed this version. There is something for everyone in this cookbook.
While she does use a lot of whole food options, I wouldn't label this as a whole food cookbook. In cases where she uses less healthy option, she offers alternatives. And the recipes are easily customized to suit your family's tastes or health needs.
One of my favorite features was the Basic Cooking Skills checklist. I plan on using this list as a guide for teaching my sixth grader some cooking skills. A nice and simple way of incorporating some home ec into your home or homeschool.
F.Y.I.
Website:
http://www.everydayhomemaking.com
Price: $17.99 for the print edition, $14.99 for the e-book