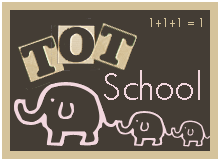 Kayleigh is currently 19 months
Tot school this week was, shall we say, relaxed. LOL We had a field trip for big sis, warmer clothes to buy, and a last minute trip to Disney on Ice.
On the rare occasion that we were actually home we played outside, read books, and practiced numbers with our
Bounce and Spin Pony
. The pony was the only farm-related activity of the week. LOL
Our outside activities included chalk, swinging, sliding, and rocks. Kayleigh LOVES rocks. She holds them, hugs them, kisses them, and sometimes tries to eat them.
Kayleigh wasn't overly thrilled with our trip to Fort Wool. She enjoyed the boat ride over but declared the actual fort "sce-ee." (That's Kayleigh for scarey. LOL) She discovered the word scarey recently, how I don't know, and uses it frequently. Too frequently. You never know what's going to get the label. LOL
Be sure to check out what the other tot's are up to over at Carisa's.