Kayleigh is 30 months old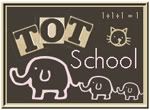 We survived another week and it went somewhat better than last week.   She was willing to do some things.  And she created a few "games" of her own.
We continued with D again this week and did a few letter related activities.
We finally got to use the dinosaur clip cards from COAH.  We ditched the clothespins and just used "treasures" to "feed" the dinosaurs.  She loves to "feed" anything.  Which is quite funny considering she can be such a picky eater.
We reviewed letters A-D using our large letter mats, also from COAH.  First she matched letter magnets to each card.  Then I'd call out random letters and she'd swat it with our fancy fly swatter.  Sometimes she'd even swat the right letter but, most of the time, she thought it was funnier to hit all the wrong letters.  Typical Kayleigh.  LOL
We made our D page for our ABC book.  This week D was for Dragon.  We tried using out plastic dinosaurs to make "dragon" tracks on our D but it didn't really work, although she enjoyed it anyway.
D was also for donut and doll house this week.
Her favorite activity of the week was supposed to be a sorting activity.  Sorting red, green, and blue gems into red, green, and blue cups.  Kayleigh, however, altered it a bit.  It became a pouring activity and she did it for hours everyday.
We also spent an evening doing nothing but puzzles.
My favorite thing about the week was the fact that I finally found a pair of scissors that she can use.  And she loved them.
We got a keyboard for Mackenzie's piano lessons and she enjoyed playing with that.  Another favorite this week was looking through Mackenzie's school notebook from kindergarten.  She loves dragging that think out and flipping through it.
She also came up with a few "unsanctioned" activities of her own. One involving multiple dumpings of all our tot tray manipulatives into our shape sorter, which she also refused to play with, and some artwork on my wall. The latter resulted in a time out. She was crying and screaming over that one, which is always comical, so I grabbed my camera. She hid her face in the wall as soon as she saw that. The joke's on her though, I like the picture of her facing the corner better. So ha!
Be sure to visit the Tot School website, by clicking the button at the top of the page, and see what the other tots have been up too.