Kayleigh is 33 months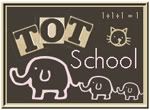 Click the button to see other tots
As I sit down to write this post I can't even remember what little we did. Hopefully the pictures I took will prompt me. Our theme was supposed to be turkeys this week but we didn't get much done at all. We're not doing much for 4th grade next week so I plan on doing more with Kayleigh then.
In no particular order, here they are...
Oh she played with the ABC puzzle from our
Lauri Toys Primer Pack
.
She did some lacing with cards I made from over at
Home Grown Hearts
. She doesn't usually like lacing so I was really surprised when she pulled this off the shelf.
We got this adorable Turkey/Spelling Puzzle from
2 Teaching Mommies
. She loved it!!
We did the Color the Turkey book from
Carisa's
Thanksgiving Tot Pack. She did a great job coloring the turkeys the right colors. She likes to "read" the book to us. And every, single time she'll name one color incorrectly. And everytime the color changes. LOL Then she got into a huge battle with Daddy over what color the yellow turkey was. Stubborness at it's finest.
She played with her
instruments
,
Loving Family Dollhouse
,
Bristle Blocks
, and her
Jigsaw Jungle (Soft to Touch Jigsaws)
.
We went on a field trip with Daddy to The Mariner's Museum to see the USS Monitor exhibit. Big sis just finished studying it. It was an AWESOME exhibit.
We also played a lot with pumpkin play dough but I didn't take any pictures of that. Maybe next week.